Totally Screwed Machine Shop
Back to MAIN, Steve's Stuff
Camjack Knurler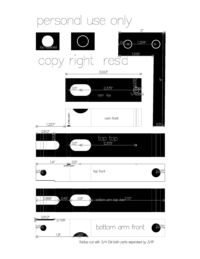 This page documents how I did the project and by no means is to indicate it is the best way. It is using the tooling I had at hand. Use your own discretion and make best use of your own tooling. At this point it isn't 100% complete or tested though it is far enough along that I foresee no insurmountable problems, but remember I am not overly bright.
I started by cutting the parts to length on my new little 4x6" HF band saw. Fortunately I got it in place and set up before surgery because I still have a month of not being able to lift more than a few pounds. This explains the 7lb vice in the pictures. This project moved slow but kept me from going crazy (er?).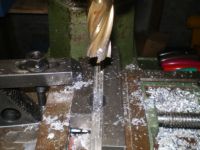 Next came separating the cam and lower arm with 3x 1/8" shims to plunge cut the sockets for the pivots.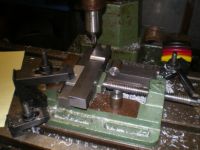 Next I did the knurl slots (though no real need for any particular order). The picture shows the cam and pivot sockets, and the lower arm (already slotted) alongside the upper arm clamped and set for slotting.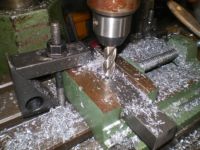 Next slotting for the main bolt. I am not sure that the slots won't need to be changed as they may not provide enough clearance without "funneling" them. No real concern as it will be an easy fix later if needed.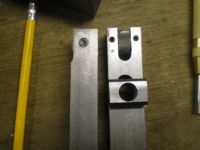 Knurls installed. knurls on hand had 1/4" hole and I opted to use 1/4" drill rod polished down for a smooth fit and secured with 10 x 24 set screws. Divots were drilled into the rods through the screw holes before they were hardened. The top pivot actually belongs with the cam and not the lower arm.
I am awaiting the delivery of shoulder bolts to secure the arm and some 1/2" 20 all thread to complete the project and do a test run.
Back to MAIN, Steve's Stuff