Totally Screwed Machine Shop
Cross Drill / Key cutter
Updated January 25, 2013 10:40
Cross Drill / Key cutter
This is a great little project for the lathe. You will need access to a welder for a few minutes. You will probably want to make another T nut for your lathe in which ever manner you are accustomed to, or you could use a bolt that fits your Tnut.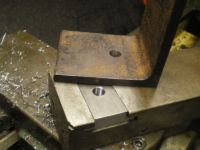 We need a heavy chunk of angle suitable for the compound size. I used a 4x4x3/8" piece for the 12x36. We made a new Tnut on the mill and threaded it 1/2" x 20TPI. having a separate tnut allows for simply sliding the QCTP off and the cross drill rig on.
So bolted to the Tnut simply flatten against the chuck jaws to square it, then run and end mill down the length to prep for welding (*note* chucks don't make a good end mill holder but for the lightest of cuts so use caution). Now would be a good time to flatten the other "V"angle by clamping to the vertical. Not shown because I did mine in the mill. 3rd pic shows drilling holes for pocket welds. Please pay no attention to the long rod! We didn't have a 1/2"x 20 bolt so We threaded a piece of 1018 for temporary duty.
1st picture shows a rod setup between chuck and center. The V block angle is sandwiched between the vertical angle and the rod, thus assuring all is square. Please note the previously mentioned flat on the small angle to weld prep and help keep it square. Now the whole thing is removed from the lathe as one piece and taken to the welder. The ends can be welded and then plug welds in the holes. Attempting to weld either the top or bottom WILL cause warping. I shortened the vertical but probably should have left it to drill and tap for mill like clamping or U bolts.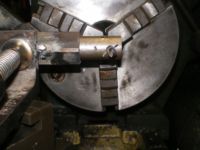 So there it is in action cross drilling. Now if the mill is busy and I need to cut a quick keyway or cross drill a shaft, it'll only take a few seconds to setup.